Shubham Ghosh
THE demand for fuel in India headed south in May to reach the lowest mark since August 2020, thanks to the second Covid-9 wave seriously affecting mobility and economic activity in the world's third-largest oil-consuming nation. On Wednesday (9), data from the Petroleum Planning and Analysis Cell of India's oil ministry showed the demand for the liquid fell from 11.3 percent to 15.11 million tonnes compared to the previous month and by 1.5 percent from a year before.
Prashant Vashist, vice president and co-group head at ICRA, an independent and professional investment information and credit-rating agency in India, said the falling demand was mainly because of the lockdowns. "It's primarily because of the lockdowns, but it's very difficult to isolate the impact on demand as even high oil prices could sort of pinch a little bit in terms of demand recovering more slowly," Reuters quoted him as saying.
ALSO READ:
Covid-19 has terribly shaken Indian consumers' confidence, finds RBI survey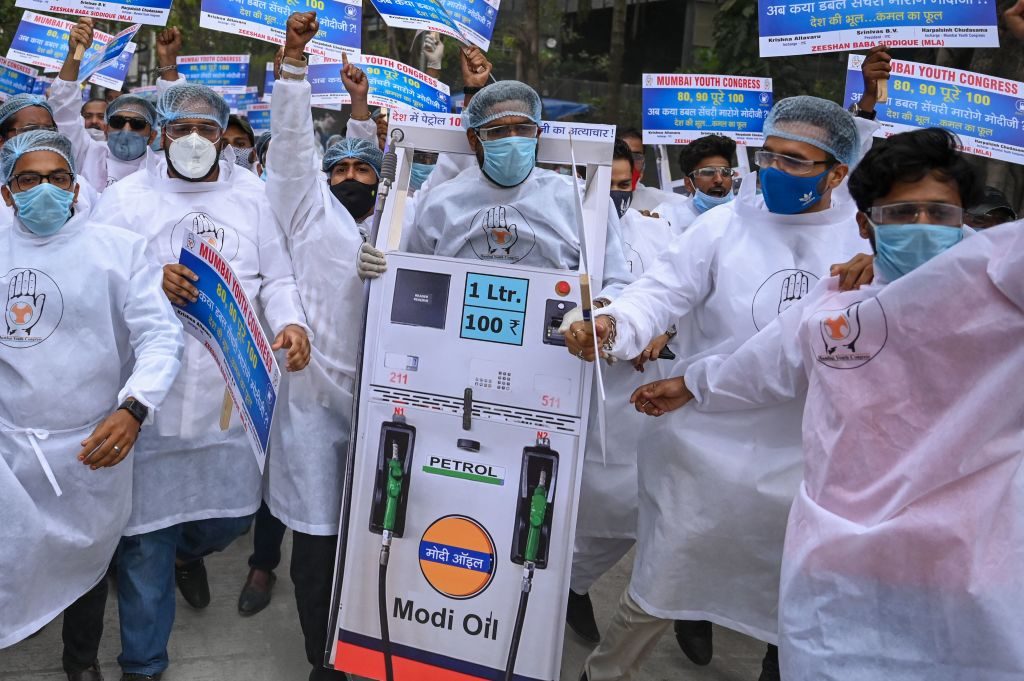 Youth Congress party activists shout slogans during a protest against India's Narendra Modi government for rising fuel prices, in Mumbai on June 5, 2021. (Photo by PUNIT PARANJPE/AFP via Getty Images)Higher fuel prices have also been a factor
It was also reported that while India's state refiners' daily gasoline and gas oil sales fell by about a fifth last month compared to April because of the pandemic, higher fuel prices have also affected the consumers. Fuel prices have continued to soar in India even as its citizens have struggled to cope with the fast spread of the pandemic which has affected more than 29 million people in the country, the second highest after the US (over 33 million).
"Everybody is expecting the recovery will be faster this time… so in another quarter or so probably we should be somewhere close to pre-pandemic levels," Vashist said.
The consumption of diesel, which is linked to economic growth and accounts for about 40 percent of total refined fuel sales in India, rose 0.7 percent year-on-year but fell 17 percent from the previous month to 5.53 million tonnes, the Reuters report added.
The sale of petrol, more expensive of the two, went up by 12.4 percent from a year earlier but plummeted about 17 percent month-on-month to less than two million tonnes.